Solitudine da Camera #1 #2 #3

(Chamber Solitude #1, #2, #3)
BY CECILIA BERTONI AND CLAIRE GUERRIER WITH CARL G. BEUKMAN
---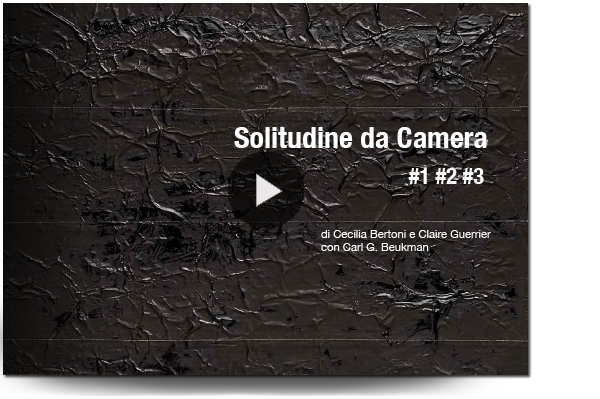 The book Solitudine da Camera #1 #2 #3 by Cecilia Bertoni tells the story of the journey created by Cecilia Bertoni and Claire Guerrier with Carl G. Beukman, at the Tenuta Dello Scompiglio, through drawings, photographs and texts. A long path of exchanges, contrast and formal realisation, begun in 2011 in the tank room with Camera #1, continued in 2012 amongst the columns with Camera #2 and concluding with a small hut immersed in the natural countryside at the estate in Camera #3.
---
BOOK
Published: 2014
An Associazione Culturale Dello Scompiglio Production
No. of pages: 90
Languages: Italian, English
Binding: paperback
Format: 29.7 x 21 cm
Composition and graphics: Cecilia Bertoni
Drawings: Cecilia Bertoni, Claire Guerrier
Photos: Cecilia Bertoni, Carl G. Beukman, Daniela Cappello, Andrea Domesle, Claire Guerrier, Guido Mencari
Critical Texts: Andrea Domesle, Angel Moya Garcia
Translations: Maria Ilaria Panuccio, Flavia Watts
Information
Available at the bookshop of the SPE.
PRICE
Book: € 10,00
SHIPPING
Italy € 4,00 - for a quote to ship multiple copies or overseas, please send us an This email address is being protected from spambots. You need JavaScript enabled to view it.

ASSOCIAZIONE CULTURALE DELLO SCOMPIGLIO
+39 0583 971475
This email address is being protected from spambots. You need JavaScript enabled to view it.